ONLY THE BEST
BEST
SELLERS
JUST IN
e-gift cards
Shopping for the perfect gift doesn't have to be so hard! Give the gift of choice with a gift card from Johnny B. Haircare. Delivered via email, our gift cards are available in $20, $40, $60, $80, and $100 amounts.
HOW TO ACHIEVE
DEFINED CURLS
MOISTURIZE HAIR USING CODE B


(15% HEMP OIL & 85% WATER)

USE LAVA CLAY TO ENHANCE CURLS


(HYBRID CLAY & WAX FORMULATION)

ADD GEM FOR A POLISHED LOOK


(LIGHTWEIGHT SHINE SPRAY)
PRIDE & JOY
PROFESSIONALS
FIRST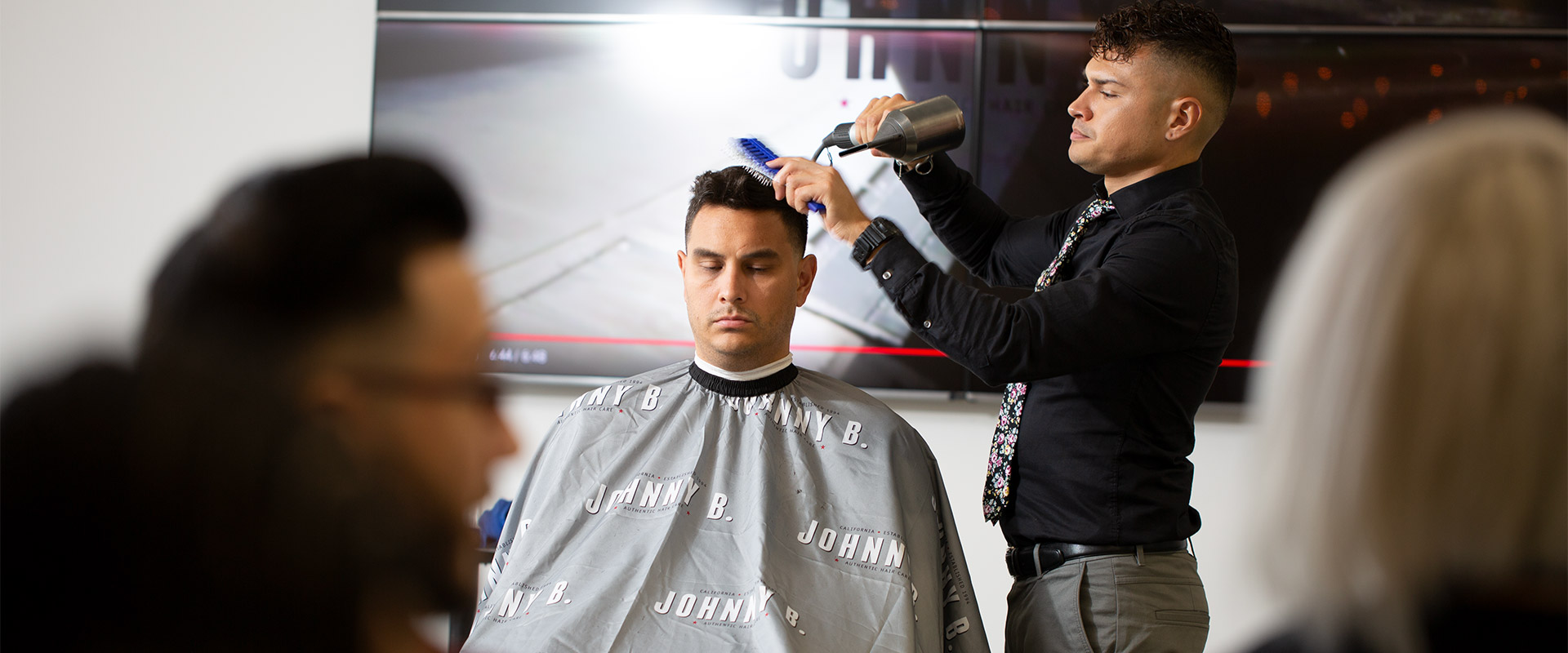 BE PART OF AN ELITE TEAM
Join a small but strong group of dedicated barbers and stylists with direct and exclusive access to brand matters.

ACCESS TO SPECIAL EVENTS
Get closer to the action at special events and hairshows! Become the platform artist you were meant to be.

TRAVEL THE STATES
Go where the opportunities take you! Travel to events across the country as a proud representative of the brand. It all starts with a trip to headquarters in LA.
EST. 1994
THE JOHNNY B. STORY
(so far)
HUMBLE BEGINNINGS
Did you know we launched in 1994 with one product in a Southern California garage? We've come a long way! Today, Johnny B. Haircare is recognized for its innovative and affordable products strategically built from barbershop roots. Through the years we've excelled in creating styling products from analyzing consumer preferences and marketplace voids. 
OUR GROWTH 
The men's segment has evolved beyond styling products with greater emphasis on beards and grooming. Multiple holistic items designed to help nourish, grow, and maintain hair health have been added to the Johnny B. Haircare line, helping expand those categories among an increasingly receptive audience. 
39 PRODUCT AVAILABILITY 
Our high-quality, innovative products are available through barbershops and salons across the United States, Mexico, and Canada. Johnny B. Haircare is also available for purchase online through our secured site.